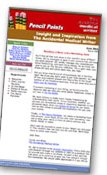 It's here, the July issue of Pencil Points. If you're a subscriber, look for it in your inbox.
In this issue we share with you some very important and valuable lessons we've learned along our freelance journey that serve us well and we think will serve you well, too.
As the Head and Shoulders shampoo commercials used to tell us, "You never get a second chance to make a first impression." But what about last impressions? We know from experience that the last thing you do can be just as important as the first, and in [Not] Just for Newbies we offer several proven ways to make a great last—and lasting—impression on your clients.
Emily Post defines common courtesies as small gestures we perform out of respect for others. Saying "please" and "thank you" are among the most important common courtesies, and in The Savvy Marketer we tell you how you say "please" and "thank you" to your clients in 3 very powerful ways.
As we're growing up, we learn to love the sense of pride that comes with having done something all by ourselves. It takes experience to learn that some things we have no business doing ourselves. It's not easy to let go, stand back, and let others do it for us. But if it weren't for clients doing just that, we'd never have work! In Dollars and Sense, we explain why it's better to leave certain things for the professionals, and how that benefits you in so many ways!
We also provide a tip on how you can learn to talk like TED. Now, who's Ted and why would you want to talk like him? You'll just have to check it out in On the Radar.
One of the things we love about writing Pencil Points each month is being able to share with you the experiences that have helped to shape us into successful freelance medical writers. We're not your mother or father, so you can do as you please. No matter what, you'll make mistakes. We make mistakes every day. And we learn from them. That's where success begins. Because if there's one thing we've learned from experience, it's that if you can't make a mistake, you can't make anything.