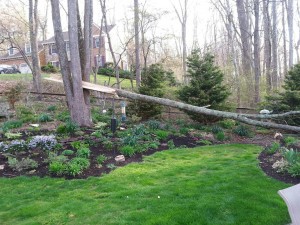 This is the view of Cyndy's back yard today after a presumed microburst swept through her neighborhood last night, leaving felled trees in its wake. She was lucky; the tree landed in just the right spot to miss outdoor structures. The only minor casualties were 2 uninhabited birdhouses.
What does this have to do with medical writing? Well, it reminded us of the old adage, "Man plans and God laughs." And it got us thinking about all the plans we make as freelance medical writers, and how accidents can change those plans in an instant, requiring us to rethink and respond on the fly.
As professionals, we know it's important to deliver consistently on time, on target, and on budget for our clients. That's the plan. But nobody's perfect 100% of the time. That's why it's also important to have a Plan B for how to handle the situation when something goes wrong. If you're in this business long enough, you will have a project that you under-estimated, a deadline you blow, a client who's dissatisfied, and something unavoidable that gets in the way of your productivity and profitability. The most important lesson we've learned is this–remember that accidents happen, and don't take them personally. It's true what they say, to err is human. It's what you do next, to correct the problem and prevent it from happening again, that makes you a professional.